Bitcoin looks poised for a multi-month breakout over $21,600…

And if the last few days of price action is any indication of what we could see…

The move could stir up huge moves in crypto-related stocks.

But will sector momentum be enough to provide trade opportunities?
I don't think so…
That's why I'll be looking for two things to line up before I consider a trade.
And I think you should too if you want to get in on this hot sector action…
How to Trade Bitcoin's Potential Breakout
If Bitcoin breaks out over $21,600 there can definitely be trade opportunities in many crypto stocks.
Because like every hot sector — there's always a sector leader. In the crypto sector that's Bitcoin.
So all crypto stocks follow bitcoin closely.
Just look at these charts as an example…
First, here's Bitcoin's six-month chart.
Now, look at the six-month charts of these crypto stocks…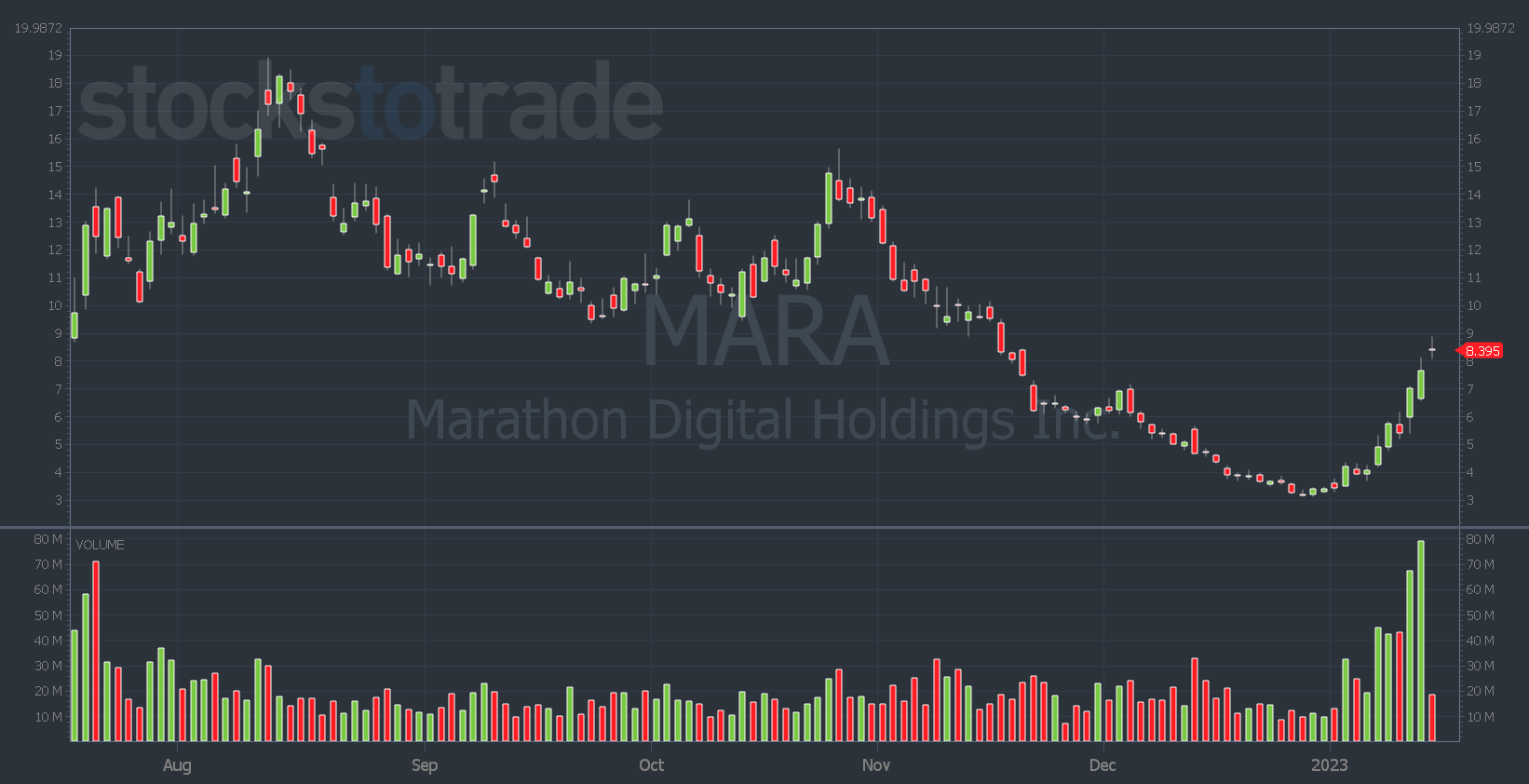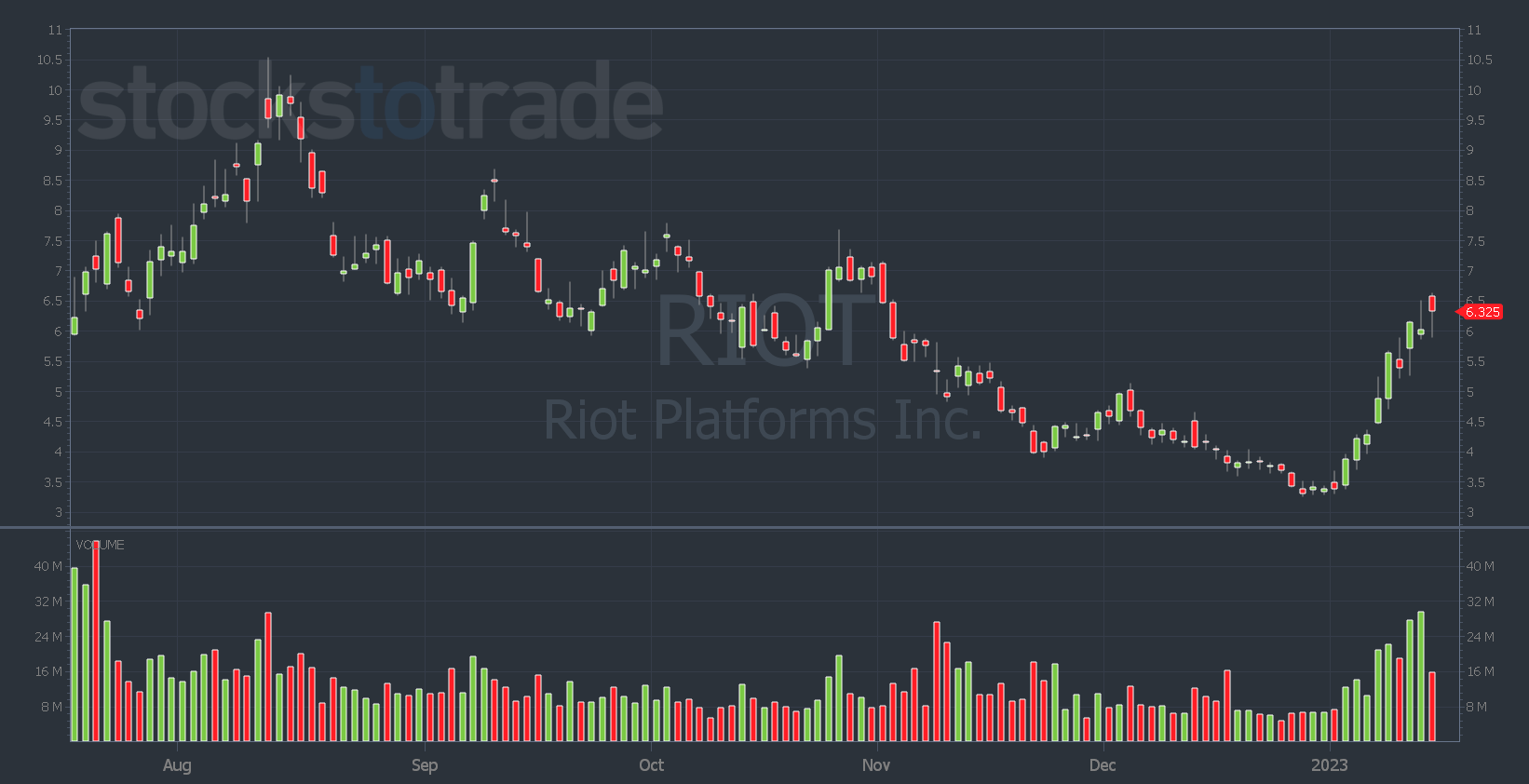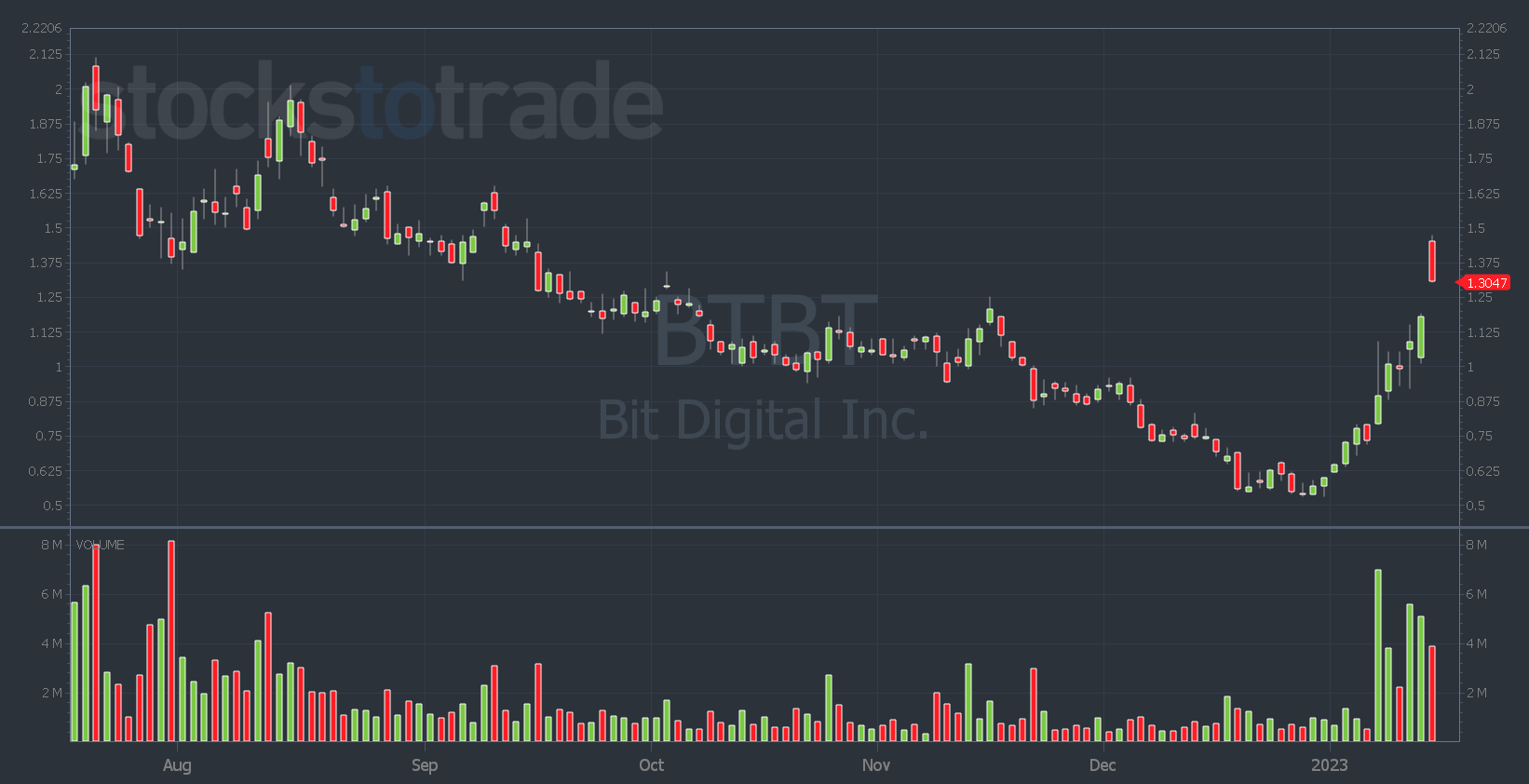 They're almost identical.
Marathon Digital Holdings, Inc. (NASDAQ: MARA), Riot Platforms, Inc. (NASDAQ: RIOT), and Bit Digital, Inc. (NASDAQ: BTBT) are all in the same multi-day uptrend as Bitcoin.
And many other crypto stock charts look the same.
So before I trade any crypto stock, I'll look at the bitcoin chart and see what it's doing.
If bitcoin breaks out, many of these stocks could follow it higher. But if it fails, it could be ugly for these stocks that have already had impressive multi-day bounces.
The next thing I would look for in a potential crypto stock to trade is a catalyst.
When you have a hot sector stock coupled with news — it can create some of the best potential opportunities.
Yesterday morning, BIT Mining Limited (NYSE: BTCM) announced it launched a new energy-efficient Litecoin and Dogecoin mining machine. The Breaking News Chat team alerted it in premarket.
And just look at BTCM's chart…
It had a nice gain last Friday on sector momentum, but when news came in yesterday, it pushed the stock up 52%!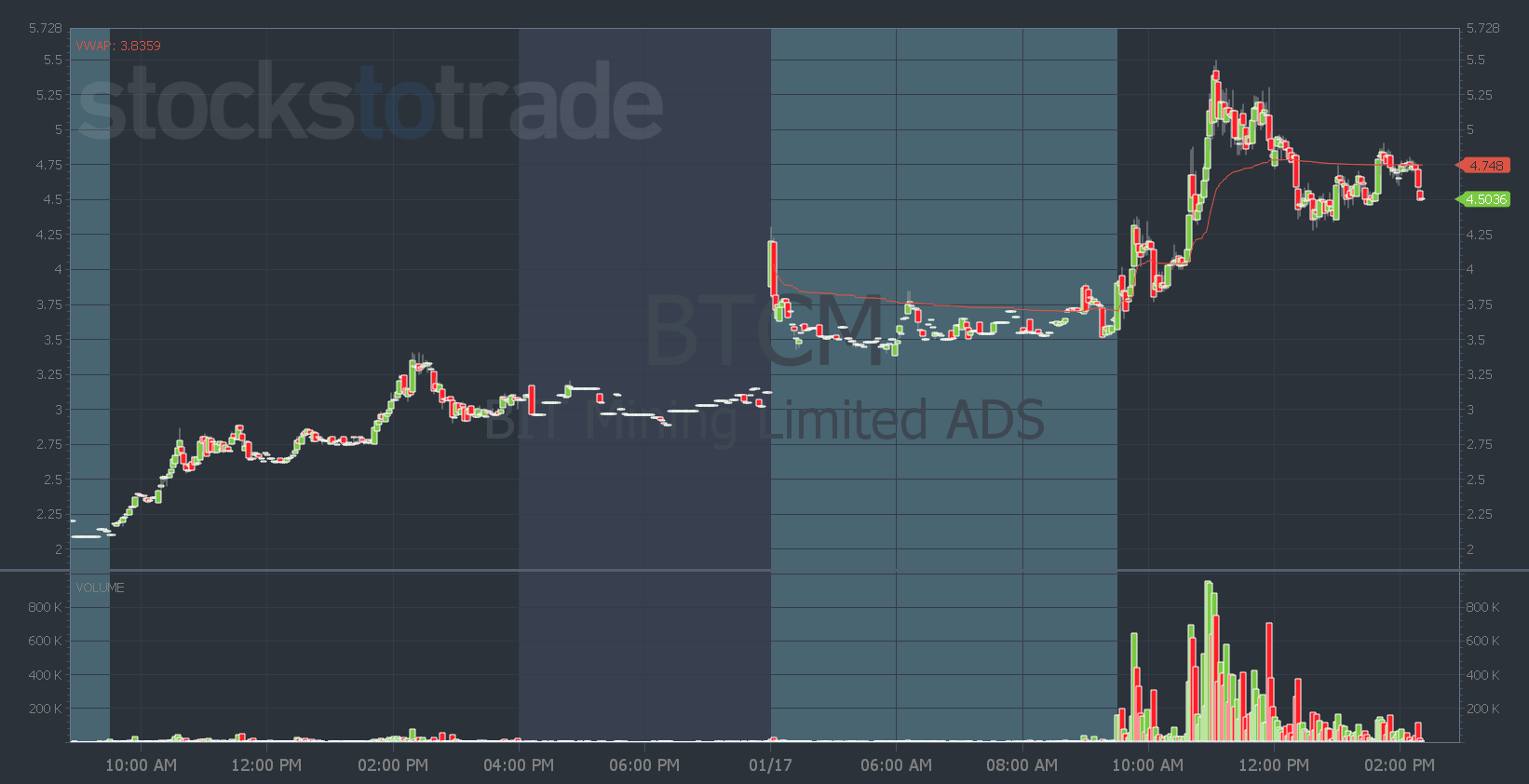 BTCM climbed from an opening price of $3.57 to a high of $5.49 in just a few hours. Its dip and rip style move was one of the best morning moves out of all the crypto stocks.
Recognizing and trading hot sector stocks is one of the best ways to find the best runners.
But combining hot sector stocks with news, volume, and a chart pattern is how you can narrow a large sector of stocks down to the few with the most potential to run.
Start with the big picture idea and what the sector leader is doing. Then narrow your focus to the stocks that line up multiple indicators.
And don't forget to join Tim Sykes tonight to discover how Mark Croock made one simple switch that changed his trading. He'll also share how you can use it for yourself — get on the list to attend now!
Have a great day everyone! See you back here tomorrow.
Tim Bohen
Lead Trainer, StocksToTrade

P.S. Prep for whatever the market throws at you today — get my morning market update videos here.
Every market-open, this proprietary scanner (with an 85% win-rate on the year) filters through thousands of stocks within seconds to create a list of 20 potentially big-movers.
Imagine the hours of research this powerful algorithm can save you every morning.
Your next big trade could be alerted to you by this scanner as early as pre-market tomorrow…
Recommended Membership Gifts
Click to activate these complimentary membership gifts and receive daily market intel.


(As an Amazon Associate, we earn from qualifying purchases.)
13809 Research Boulevard, Suite 500, Austin, TX 78750
*Please note that these kinds of trading results are not typical. Most traders lose money. It takes years of dedication, hard work, and discipline to learn how to trade, and individual results will vary. Trading is inherently risky. Before making any trades, remember to do your due diligence and never risk more than you can afford to lose.
This is for informational purposes only as StocksToTrade is not registered as a securities broker-dealer or an investment adviser. No information herein is intended as securities brokerage, investment, tax, accounting or legal advice, as an offer or solicitation of an offer to sell or buy, or as an endorsement, recommendation or sponsorship of any company, security or fund.
StocksToTrade cannot and does not assess, verify or guarantee the adequacy, accuracy or completeness of any information, the suitability or profitability of any particular investment, or the potential value of any investment or informational source. The reader bears responsibility for his/her own investment research and decisions, should seek the advice of a qualified securities professional before making any investment, and investigate and fully understand any and all risks before investing.
StocksToTrade in no way warrants the solvency, financial condition, or investment advisability of any of the securities mentioned in communications or websites. In addition, StocksToTrade accepts no liability whatsoever for any direct or consequential loss arising from any use of this information. This information is not intended to be used as the sole basis of any investment decision, should it be construed as advice designed to meet the investment needs of any particular investor. Past performance is not necessarily indicative of future returns.
Copyright © StocksToTrade.com