Managing Editor's Note: We're switching it up a bit in today's Stock Power Daily. You'll still find Matt Clark's featured stock further down in the newsletter, but we wanted to highlight a massive warning from Mike Carr regarding the future of tech stocks. He actually sees this as an opportunity to profit as companies collapse, and he's going to show you why at 4 p.m. Eastern today. Click here to sign up for his free "Silicon Shakeout" presentation, and get ready to find gains amid the chaos.

— Chad Stone
History Has a Stark Warning for Thousands of Tech Stocks
For hundreds of years, bad times have followed good times in the economy.

The Roaring '20s were followed by the Great Depression. The post-World War II boom in the U.S. was followed by a decade of high inflation.

The same pattern holds around the world.

Bankruptcies followed the Dutch tulip mania of the 1630s. A Japanese boom that ended in 1989 was followed by 33 years of bad times that may not be over yet.

One measure of bad times is bankruptcies. An older study showed bankruptcies of listed companies rose when recessions hit.

The chart below from JDSupra.com tracks only publicly traded companies. Bankruptcies for all businesses show a similar trend.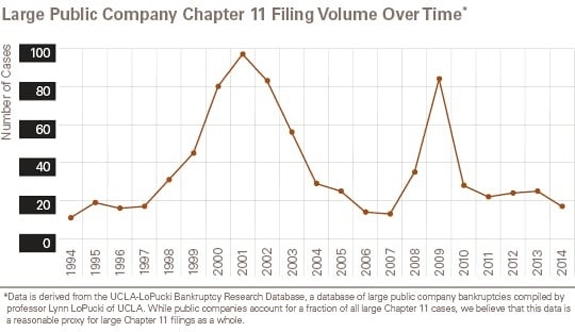 (Click here to view larger image.)
The global financial system ground to a halt in 2008.

Bankruptcies spiked but stayed below the level seen in 2001 as the dot-com bubble popped.

The internet bubble was bad for investors, but a boom to bankruptcy attorneys because easy money preceded the crash.

In the 1990s, venture capital (VC) funds fueled the bubble. Adding "dot-com" to a company name boosted its market value by tens of millions of dollars, making it easy for VCs to justify investments in companies that were losing money.

That sounds insane — and it ended badly.

But it was nothing compared to what unfolded over the past few years.

Uber gave us rides below cost to gain market share. DoorDash delivered for less than cost and so did Instacart. And these are just three examples on a laundry list of ideas tech companies tried in the search for profits.

VCs gave us those luxuries. But that was when money was "free" for those funds. With interest rates at zero and the Federal Reserve printing hundreds of billions of dollars a year, large funds had access to plenty of cheap capital.

That changed in 2022. The Fed is now raising rates. And the printing press is turned off.

Bottom line: We should expect a wave of bankruptcies. The mania of the last few years with special-purpose acquisition companies and memes is over.

That's OK. There will be great trading opportunities in the shakeout to come.

To learn more about the upcoming "Silicon Valley Shakeout," click here to sign up for my presentation that's premiering at 4 p.m. Eastern today.
---
From our Partners at Banyan Hill Publishing.

Only 2% of cars sold in the U.S. today are electric vehicles… but that's about to change — FAST. A new battery breakthrough is ready to hit the market. It could revolutionize the $2 trillion automotive industry … and could soon make gas guzzlers obsolete. This technology is predicted to cause a 1,500% surge in electric vehicle sales over the next four years. The company pioneering this new battery could be the investment of a lifetime.

Click here for details.
---
The tech stock slump of 2022 is moving into 2023 … and impacting companies large and small.


A deep dive into our Stock Power Ratings system shows you that certain tech stocks are not good investments.


Today's Stock to Avoid is a $40.8 billion cybersecurity company and rates a "High-Risk" 15 out of 100 on our proprietary system.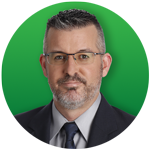 Yesterday, I told you about a small cybersecurity company to avoid.

Today, I'm thinking bigger. I have a massive cybersecurity company you want to stay away from.

As I mentioned before, cybersecurity is big business. Companies spent 24% of their IT budgets guarding against threats in 2022.

While cybersecurity has been one of the hottest tech sectors to trade, trends indicate that growth is slowing.

The reason: Recession concerns and higher interest rates are forcing businesses to spend less.

Cybersecurity remains a long-term growth industry as we become more reliant on tech and need stronger ways to protect our data. But growth will slow with a weaker economy.

Cybersecurity stocks are taking a massive hit.

This is the case with today's "High-Risk" stock.

Click here to see if this is a stock you're holding — and why it's time to dump it.

(Click here to view larger image.)
---
Check Out Our Most Recent Power Stocks:

Privacy Policy
The Money & Markets, P.O. Box 8378, Delray Beach, FL 33482.

To ensure that you receive future issues of Money & Markets, please add info@mb.moneyandmarkets.com to your address book or whitelist within your spam settings. For customer service questions or issues, please contact us for assistance.

The mailbox associated with this email address is not monitored, so please do not reply. Your feedback is very important to us so if you would like to contact us with a question or comment, please click here: https://moneyandmarkets.com/contact-us/

Legal Notice: This work is based on what we've learned as financial journalists. It may contain errors and you should not base investment decisions solely on what you read here. It's your money and your responsibility. Nothing herein should be considered personalized investment advice. Although our employees may answer general customer service questions, they are not licensed to address your particular investment situation. Our track record is based on hypothetical results and may not reflect the same results as actual trades. Likewise, past performance is no guarantee of future returns. Certain investments carry large potential rewards but also large potential risk. Don't trade in these markets with money you can't afford to lose. Money & Markets permits editors of a publication to recommend a security to subscribers that they own themselves. However, in no circumstance may an editor sell a security before our subscribers have a fair opportunity to exit. Any exit after a buy recommendation is made and prior to issuing a sell notification is forbidden. The length of time an editor must wait after subscribers have been advised to exit a play depends on the type of publication.

(c) 2023 Money & Markets, LLC. All Rights Reserved. Protected by copyright laws of the United States and treaties. This Newsletter may only be used pursuant to the subscription agreement. Any reproduction, copying, or redistribution, (electronic or otherwise) in whole or in part, is strictly prohibited without the express written permission of Money & Markets. P.O. Box 8378, Delray Beach, FL 33482. (TEL: 800-684-8471)

Remove your email from this list: Click here to Unsubscribe