| | |
| --- | --- |
| | AN OXFORD CLUB PUBLICATION |
SPONSORED
Do NOT Ignore This Message Hidden In Your $1 Bill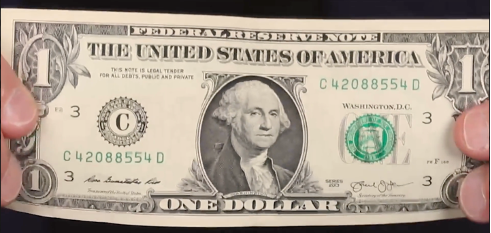 On the face of this $1 bill is a set of instructions for EVERYONE in America, which is legally binding...
And is the main thing that gives your cash its value.
But here's the thing...
This message represents a direct threat to Joe Biden's plans for your money...
Which could put the value of every dollar you own in SERIOUS jeopardy.
Can you spot it?
EOG Resources (NYSE: EOG) is a Houston-based oil and gas producer with a lucky past.
The company had fortunate timing, as it was spun out of the notoriously fraudulent Enron in 1999, which imploded just two years later.
Investors also had good timing, as they saw the share price more than triple in the past three years. In that time, the company started paying special dividends that offered shareholders big payouts.
Let's look at how safe the dividend is.
In 2021, EOG Resources paid two special dividends - of $1.00 per share and $2.00 per share. Last year, it paid four special dividends of $1.00, $1.80, $1.50 and $1.50 per share. So far in 2023, there has been one special dividend of $1.00 per share, paid in March.
Special dividends should never be counted on. They are irregular dividends that a company pays when it has excess cash or cash flow. It's like when your spouse gets you that really nice bottle of whiskey for your birthday that you would never buy for yourself. It's nice to receive, but you don't expect it every year.
Instead, we'll take a look at the regular dividend because that has been more consistent and is what investors have come to expect.
EOG Resources currently pays a $0.825 per share quarterly dividend, or $3.30 annually, which comes out to a 2.5% yield.
The dividend has been raised every year since 2018 at a strong clip. Over the past six years, the regular dividend has grown at an astounding 30% compound annual growth rate, including a 10% increase this year.
Last year, the company paid $5.2 billion in dividends. But when you factor in only the regular dividends, it comes out to about $1.8 billion. Free cash flow totaled $6.1 billion, so the payout ratio is just 30% of free cash flow.
This year, the company is forecast to pay out $2.9 billion in dividends, but again, if we look only at the regular dividend and don't include special dividends, the total amount should be around $1.9 billion.
Free cash flow is projected to decline to $4.5 billion this year, which still easily covers the dividend (though it would not have covered all the special dividends last year, which is why management has likely pumped the brakes on them).
Falling free cash flow isn't great, but it is still well above the regular dividend. So unless free cash flow continues to drop, the regular dividend is fairly safe.
Dividend Safety Rating: B
If you have a stock whose dividend safety you'd like me to analyze, leave the ticker in the comments section.
And be sure to check to see if I've written about your favorite stock recently. Just click on the word "Search" on the upper right part of the Wealthy Retirement homepage, type in the name of the company and hit "Enter."
Good investing,
Marc
MORE FROM WEALTHY RETIREMENT
Nothing published by The Oxford Club should be considered personalized investment advice. Although our employees may answer your general customer service questions, they are not licensed under securities laws to address your particular investment situation. No communication by our employees to you should be deemed personalized investment advice. We allow the editors of our publications to recommend securities that they own themselves. However, our policy prohibits editors from exiting a personal trade while the recommendation to subscribers is open. In no circumstance may an editor sell a security before subscribers have a fair opportunity to exit. The length of time an editor must wait after subscribers have been advised to exit a play depends on the type of publication. All other employees and agents must wait 24 hours after publication before trading on a recommendation.

Any investments recommended by The Oxford Club should be made only after consulting with your investment advisor and only after reviewing the prospectus or financial statements of the company.

Protected by copyright laws of the United States and international treaties. The information found on this website may only be used pursuant to the membership or subscription agreement and any reproduction, copying or redistribution (electronic or otherwise, including on the world wide web), in whole or in part, is strictly prohibited without the express written permission of The Oxford Club, LLC, 105 West Monument Street, Baltimore, MD 21201.