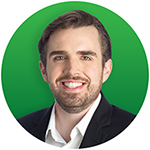 Football is back!

My allegiance lies with my hometown Atlanta Falcons, and I'll be honest … 28–3 did me in. It's been almost seven years since that epic Super Bowl collapse, and I think I'm in the acceptance stage of grief. Tom Brady retiring (for real this time) helps.

Now I'm excited to tune in on Sunday and get hurt all over again!

But not everyone will be able to watch all the action this weekend.

Disney and Charter Communications are butting heads over the cost of distribution rights. Millions of Charter's Spectrum cable subscribers couldn't tune into ABC or ESPN last weekend as the college football season kicked off … or U.S. Open tennis coverage for that matter.

Since the NFL is on the vast majority of our minds heading into the weekend, I thought I'd focus on this dispute and potential "NFL stocks" within Adam O'Dell's proprietary Green Zone Power Ratings system.

Let's start with the two companies that are not playing nice: Charter Communications Inc. (Nasdaq: CHTR) and ESPN's parent company, Walt Disney Co. (NYSE: DIS).
---
From our Partners at Banyan Hill Publishing.

It's not a recession, inflation or stock market crash — according to one expert: "Those are the least of our worries."

There's a looming event that he believes will be far worse. This event will ignite a crisis more dangerous than anything America has seen since the Great Depression. Yet no one is talking about it.

In this shocking new exposé, you will discover everything you need to know to sidestep the calamity. And perhaps even profit from it.

To watch it, free of charge, click here now.
---
CHTR's Struggles
I realize that these companies are diversified outside of providing live NFL coverage. But the NFL is a $150 billion industry. That's going to move the needle…

Besides, part of the fun of using Green Zone Power Ratings is that you can take an idea, consider different ways to invest around it and then use the system to see how related stocks rate.

That said, here's how Charter stock stacks up: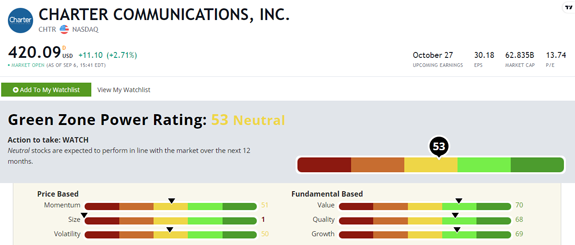 (Click here to view larger image.)
CHTR stock rates a "Neutral" 53 out of 100 in Adam's proprietary system. That means it's expected to perform in line with the broader market for the next 12 months.

Charter stock rates in the green on all three of our fundamental factors: Value, Quality and Growth.

But its price-based factor scores are dragging it down. Focusing on its Momentum score of 51, CHTR is only up 4% compared to the broader S&P 500's 11% gain over the last year.

It gets even worse if you focus on its peers. The Communication Services Select Sector SPDR Fund (NYSE: XLC), a broad exchange-traded fund (ETF) that holds a basket of similar stocks (including CHTR), is up more than 22% over that time. Some big tech names like Alphabet and Meta Platforms are propping that gain up a bit, but that's not a great look if you're looking for individual stocks to buy.

Now that Charter is entrenched in a dispute with one of the largest media giants around in Disney, which has created a nasty customer experience with rolling blackouts as football season starts, it makes sense that our system says this is only a stock to watch right now.

And speaking of the House of Mouse…
DIS in Decline
Matt Clark, our chief research analyst, wrote about Disney stock back in July, and its ratings have declined even more since then. The Walt Disney Co. (NYSE: DIS) now rates a paltry 4 out of 100 in Green Zone Power Ratings. "High-Risk" stocks like this are set to severely underperform the market over the next 12 months.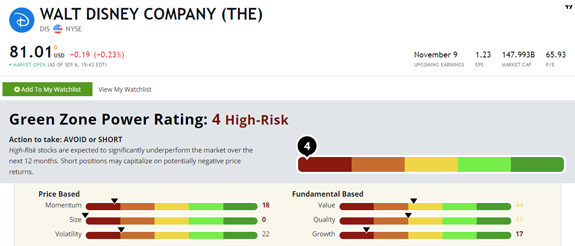 (Click here to view larger image.)
Disney stock's Momentum score is now even lower at 18. Since Matt's piece, DIS stock has lost 5%. Going back one year, it's down more than 28%!

I'm not going to spend too much time harping on Disney here. I think Green Zone Power Ratings says all you need to know, and I would recommend going back and reading Matt's piece where he hits on many of Disney's headwinds ahead, including its potential spinoff of ABC and ESPN.

I realize that both of these stocks are tangential when thinking about ways to invest in the NFL's growth. And neither looks great right now.

That got me thinking about one more way to "invest" in the NFL.

It all comes down to a fan-favorite viewing experience.
---
| | |
| --- | --- |
| | Adam O'Dell recently revealed that 2,006 stocks could be poised for a massive correction. And his system can help find the best opportunities to profit as all of this unfolds. Go here to reserve your spot now. |
---
That's the Ticket
NFL Sunday Ticket is a big deal. When DirecTV held the rights, it averaged 2 million subscribers every year.

But YouTube is hoping its massive international reach (nearly 6 million people subscribe to its YouTube TV pay television service) and the global popularity of professional football will boost those numbers higher.

The service allows fans to watch multiple games at once and catch highlights in real-time across the league.

And now that YouTube has agreed to a seven-year deal with the league to be the exclusive provider of this premium offering, there's potential for massive growth ahead. To put that in perspective, let's look at some numbers.

In the first quarter of 2023, DirecTV reported 12.7 million subscribers in the U.S. Now, anyone with a decent internet connection has access to Sunday Ticket if they're willing to pay between $299 and $399 for the entire NFL season.

And that could boost YouTube's parent company, Alphabet Inc. (Nasdaq: GOOGL), which already rates a "Bullish" 75 out of 100 on Green Zone Power Ratings…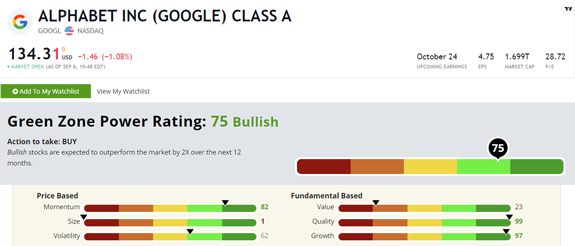 (Click here to view larger image.)
I don't need to say much about GOOGL. It's been one of the main drivers of this year's tech stock rally. It's up 51% year to date, and our system shows that outperformance should continue with strong scores on Momentum (82), Quality (99) and Growth (97).

NFL Sunday Ticket may not contribute a massive amount to Google's bottom line, but does it even need to?

That's all for me this week. And good luck to everyone's teams this weekend, unless you're a Carolina Panthers fan (I kid, I kid).

Until next time…






Chad Stone
Managing Editor, Money & Markets
---
Check Out More From Stock Power Daily:

Privacy Policy
The Money & Markets, P.O. Box 8378, Delray Beach, FL 33482.

To ensure that you receive future issues of Money & Markets, please add info@mb.moneyandmarkets.com to your address book or whitelist within your spam settings. For customer service questions or issues, please contact us for assistance.

The mailbox associated with this email address is not monitored, so please do not reply. Your feedback is very important to us so if you would like to contact us with a question or comment, please click here: https://moneyandmarkets.com/contact-us/

Legal Notice: This work is based on what we've learned as financial journalists. It may contain errors and you should not base investment decisions solely on what you read here. It's your money and your responsibility. Nothing herein should be considered personalized investment advice. Although our employees may answer general customer service questions, they are not licensed to address your particular investment situation. Our track record is based on hypothetical results and may not reflect the same results as actual trades. Likewise, past performance is no guarantee of future returns. Certain investments carry large potential rewards but also large potential risk. Don't trade in these markets with money you can't afford to lose. Money & Markets permits editors of a publication to recommend a security to subscribers that they own themselves. However, in no circumstance may an editor sell a security before our subscribers have a fair opportunity to exit. Any exit after a buy recommendation is made and prior to issuing a sell notification is forbidden. The length of time an editor must wait after subscribers have been advised to exit a play depends on the type of publication.

(c) 2023 Money & Markets, LLC. All Rights Reserved. Protected by copyright laws of the United States and treaties. This Newsletter may only be used pursuant to the subscription agreement. Any reproduction, copying, or redistribution, (electronic or otherwise) in whole or in part, is strictly prohibited without the express written permission of Money & Markets. P.O. Box 8378, Delray Beach, FL 33482. (TEL: 800-684-8471)

Remove your email from this list: Click here to Unsubscribe