As a student of politics, I follow election news with a sharp eye.

But as a student of investing, I take a different approach because midterm elections point to potential market changes over the next two years.

Republicans and Democrats are in tight races across the country that will change the makeup of the U.S. House of Representatives and Senate.

Right now, Democrats hold Congress.

But pundits expect that to change after next Tuesday.

If Republicans seize control of the House, Senate or both, the gridlock that will follow won't be great news for legislation — but will be for investors.

Previous market trends surrounding midterm elections can gauge how the market will look.

Let's see how.
A Market Unlike Before
Stock market behavior in 2022 is different from what we have seen during previous midterm elections.

This chart from Charles Schwab shows us how: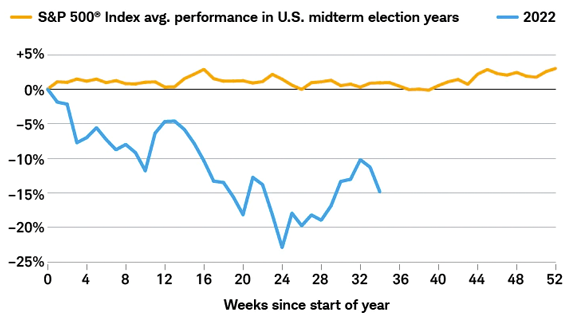 (Click here to view larger image.)
In previous years, the market was up 2% to 3% leading up to and after Election Day.

But the S&P 500 is down around 15% since the start of the year.

This divergence could mean one of two things:
History holds, and stocks will rip higher following the midterm elections.


Because stocks have lagged so far, the midterm elections will have little to no impact on stock performance in the near term.

Another factor to examine is stock performance related to the balance of power.
---
One of the absolute best income plays right now pays an incredible 12% monthly dividend... Yet few people even know that it exists. In fact, Chief Investment Strategist Brett Owens is so excited about it that he's made it a core holding in his exclusive "8% Monthly Payer" portfolio — an easy-to-buy collection of stocks and funds that could hand you $3,300+ in dividend payouts every single month!
---
Congressional Makeup and Stocks
As I write, FiveThirtyEight gives Democrats a 52% chance of maintaining control of the Senate.

Republicans have 81% odds of winning back the House.

No matter your political leanings, this is fantastic news for investors.

Historically, the market performs better in congressional gridlock: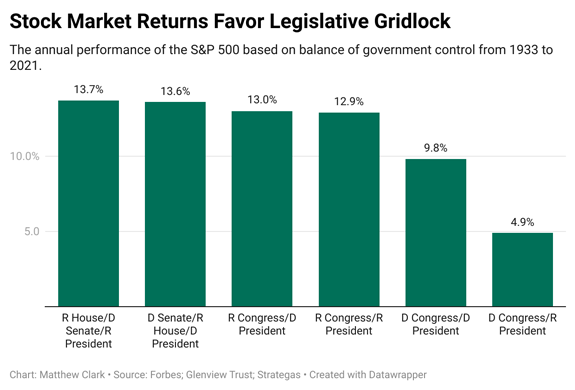 (Click here to view larger image.)
This chart breaks down the market performance based on the parties' control of Congress and the White House.

The market has gained an average of 13.7% when Republicans control the House and the presidency.

Under the most probable scenario of this midterm election (Democrats control the Senate and the White House), stocks have jumped 13.6% annually.

Another possible outcome of this year's midterms would see Republicans control Congress while Democrats hold the White House.

In that scenario, stocks have gained 13%.

Markets perform better in gridlock because it forces political parties to compromise.

This could curb more unnecessary legislation.
---
Hedge funds, venture capitalists, billionaires and Wall Street love this one crypto. It's not bitcoin — it's a coin that experts say will be 20X bigger.
---
Possible Outcome Spells Rally for Stocks
Because of inflation and recessionary fears, the market has been in a downward trend in 2022.

In times leading up to midterm elections, this isn't uncommon.

Market volatility has been the norm in the months leading up to midterm elections: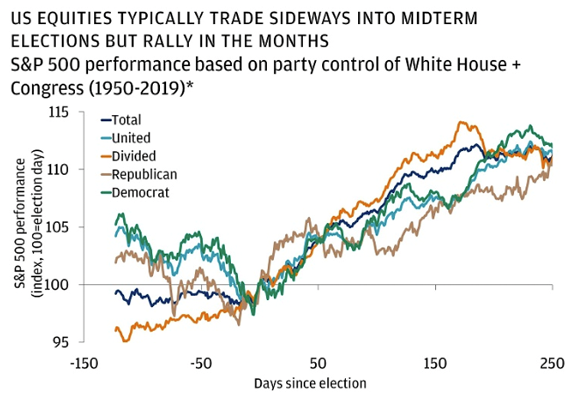 (Click here to view larger image.)
JPMorgan Private Bank's chart above shows that markets will rally no matter the outcome next Tuesday if history repeats.

Since 1950, the S&P 500 has increased as political uncertainty drops after the election.

This includes the high-inflation period of 1970 to 1982 amid the oil crisis.

Bottom line: The 2022 midterm elections are critical.

Politics aside, the potential for congressional gridlock — parties sharing power — looks like a sure thing.

This doesn't take into account the future actions of the Federal Reserve or broader inflationary pressures.

Election trends tell us this outcome will provide a shot in the arm for the market.

Which is just what investors are looking for.

Safe trading,


Matt Clark
Research Analyst, Money & Markets
Suggested Stories:
Small-Cap Stocks Are Set to Soar in the Next Bull Market

This Consumer Spending Trend Can't Last
---

1952: On an atoll of the Marshall Islands, a team of American scientists led by Edward Teller tested the first thermonuclear bomb, better known as the hydrogen bomb. These devices are known for their explosive strength, which is thousands of times more powerful than a nuclear bomb.

Privacy Policy
The Money & Markets, P.O. Box 8378, Delray Beach, FL 33482.

To ensure that you receive future issues of Money & Markets, please add info@mb.moneyandmarkets.com to your address book or whitelist within your spam settings. For customer service questions or issues, please contact us for assistance.

The mailbox associated with this email address is not monitored, so please do not reply. Your feedback is very important to us so if you would like to contact us with a question or comment, please click here: https://moneyandmarkets.com/contact-us/

Legal Notice: This work is based on what we've learned as financial journalists. It may contain errors and you should not base investment decisions solely on what you read here. It's your money and your responsibility. Nothing herein should be considered personalized investment advice. Although our employees may answer general customer service questions, they are not licensed to address your particular investment situation. Our track record is based on hypothetical results and may not reflect the same results as actual trades. Likewise, past performance is no guarantee of future returns. Certain investments carry large potential rewards but also large potential risk. Don't trade in these markets with money you can't afford to lose. Money & Markets permits editors of a publication to recommend a security to subscribers that they own themselves. However, in no circumstance may an editor sell a security before our subscribers have a fair opportunity to exit. Any exit after a buy recommendation is made and prior to issuing a sell notification is forbidden. The length of time an editor must wait after subscribers have been advised to exit a play depends on the type of publication.

(c) 2022 Money & Markets, LLC. All Rights Reserved. Protected by copyright laws of the United States and treaties. This Newsletter may only be used pursuant to the subscription agreement. Any reproduction, copying, or redistribution, (electronic or otherwise) in whole or in part, is strictly prohibited without the express written permission of Money & Markets. P.O. Box 8378, Delray Beach, FL 33482. (TEL: 800-684-8471)

Remove your email from this list: Click here to Unsubscribe