Warren Buffett is doubling down…

In keeping with his value mantra, Buffett's legendary firm, Berkshire Hathaway, continues to target the dirt-cheap energy sector.

Berkshire added 15% to its stake in Occidental Petroleum Corp. (NYSE: OXY) this year, and Buffett continues to extend his commodities bet by scooping up more shares of five Japanese commodity traders. Bloomberg reports he's also agreed to up his spend on a Maryland-based liquefied natural gas export terminal, Cove Point LNG, by $3.3 billion.

It's clear that the Oracle of Omaha sees promise in the sector (especially on the oil and gas side) — even as other investors pass it by.

But is it the right call?

I think you know the answer if you're in our Chief Investment Strategist Adam O'Dell's camp…
We Can't Cut Out Oil Yet
Like Buffett, Adam believes in the massive potential on both sides of the energy transition. He's bullish on certain renewable efforts, but he's also realistic and knows we can't just flip the switch to "green energy" overnight.

And the truth is, we're using more oil than ever. Global oil consumption just crested 102.5 barrels per day (bpd), higher than the pre-pandemic peak in August 2019. The International Energy Agency expects that number to hit 110 bpd by December!

That sets up well for what Adam is calling the next "Oil Super Bull," as oil prices continue to climb (Brent crude prices are up more than 17% in the last month alone). If you haven't checked out Adam's oil presentation, I urge you to do so now as prices continue their expected march higher.

It's clear that Adam and the Oracle of Omaha are aligned when it comes to investing in the energy sector.

But what does Adam's proprietary Green Zone Power Ratings system say about some of Buffett's biggest energy call?

Let's find out…
---
From our Partners at Banyan Hill Publishing.

Nearly forgotten law enacted by Ronald Reagan is about to payout $17.9 billion to income investors across America… Click for details.
---
Buffett's Big OXY Bet
After the recent acquisition bump, Berkshire Hathaway owns somewhere around 26% of outstanding OXY shares. It's clear that Buffett sees it as a promising energy play.

But if you're looking for an energy stock that is set to crush the broader market, Green Zone Power Ratings says OXY isn't it.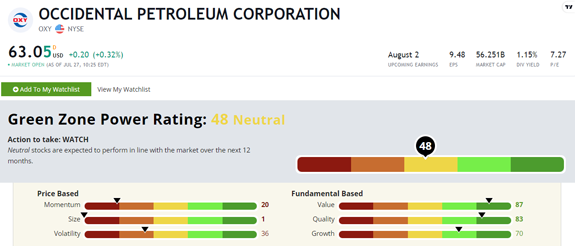 (Click here to view larger image.)
Occidental Petroleum stock rates a "Neutral" 48 out of 100 in Adam's system. That means it's expected to perform in line with the broader market over the next 12 months.

Digging into this a bit, you can see why Buffett, a known value hunter, loves the stock.

It boasts an 87 rating on Adam's Value factor. Its price-to-earnings ratio is 7.1, while the broader S&P 500 trades at a ratio that's almost 4X higher.

The company's financial health looks strong with an operating margin of 34.5% compared to the fossil fuel exploration industry average of 26%. OXY's returns on assets, equity and investments are all stronger than its peer averages, earning it an 83 on our Quality metric.

But with the market rocketing higher this year, OXY's 20 rating on Momentum hurts. While the S&P 500 has gained around 20% year to date, shares of Occidental are only up 3%.

I'm not here to knock Buffett's decisions. The man has proved time and again that he knows what he's doing. And overall, the stock has been a solid addition to the Berkshire portfolio since he first started adding shares in 2019.

But we can do better.

Here's how…
---
| | |
| --- | --- |
| | JPMorgan, Wells Fargo and Goldman Sachs all say oil will roar higher. Which is why Warren Buffett, Ray Dalio and Carl Icahn are investing billions. Adam O'Dell revealed the details on his No. 1 oil stock for 2023. An oil company he believes could hit 100% gains in the next 100 days. Click here to watch. |
---
The Money & Markets Energy Portfolio
We love writing about energy here at Money & Markets. Adam has instilled in us a drive to find investment opportunities where others aren't looking, much like what Buffett is doing with his own energy strategy.

Matt Clark, our chief research analyst, just showed you a 99-rated Green Zone Power Stock in his latest Stock Power Daily piece. It's targeting massive growth as demand remains elevated, and has gained 13% in the last month alone.

And Adam continues to comb the sector for opportunities in his premium stock research services. His latest recommendation in Green Zone Fortunes is leading the charge in a renewable effort that isn't on many investors' radars — yet. He just added this position to the model portfolio earlier this week, so it's the perfect time to get in. Click here to learn how you can do so.

Finally, I mentioned it above, but now is the time to watch Adam's "Oil Super Bull" summit if you haven't yet. His No. 1 stock that's been riding this oil boom since he first recommended in December 2022 is up more than 64%, and that's just the start.

After watching the summit and joining 10X Stocks, Adam's elite stock research service, you will gain access to a diversified portfolio of stocks that are made for this stock market rally. And the best part is that Adam will be there every step of the way to let you know the best times to buy and sell these tickers with 10X potential.

So click here, watch his summit, and get ready to make 2023 your best investing year yet.

Sincerely,






Chad Stone
Managing Editor, Money & Markets
---
Check Out More From Stock Power Daily:

Privacy Policy
The Money & Markets, P.O. Box 8378, Delray Beach, FL 33482.

To ensure that you receive future issues of Money & Markets, please add info@mb.moneyandmarkets.com to your address book or whitelist within your spam settings. For customer service questions or issues, please contact us for assistance.

The mailbox associated with this email address is not monitored, so please do not reply. Your feedback is very important to us so if you would like to contact us with a question or comment, please click here: https://moneyandmarkets.com/contact-us/

Legal Notice: This work is based on what we've learned as financial journalists. It may contain errors and you should not base investment decisions solely on what you read here. It's your money and your responsibility. Nothing herein should be considered personalized investment advice. Although our employees may answer general customer service questions, they are not licensed to address your particular investment situation. Our track record is based on hypothetical results and may not reflect the same results as actual trades. Likewise, past performance is no guarantee of future returns. Certain investments carry large potential rewards but also large potential risk. Don't trade in these markets with money you can't afford to lose. Money & Markets permits editors of a publication to recommend a security to subscribers that they own themselves. However, in no circumstance may an editor sell a security before our subscribers have a fair opportunity to exit. Any exit after a buy recommendation is made and prior to issuing a sell notification is forbidden. The length of time an editor must wait after subscribers have been advised to exit a play depends on the type of publication.

(c) 2023 Money & Markets, LLC. All Rights Reserved. Protected by copyright laws of the United States and treaties. This Newsletter may only be used pursuant to the subscription agreement. Any reproduction, copying, or redistribution, (electronic or otherwise) in whole or in part, is strictly prohibited without the express written permission of Money & Markets. P.O. Box 8378, Delray Beach, FL 33482. (TEL: 800-684-8471)

Remove your email from this list: Click here to Unsubscribe