We had two big gainers in premarket yesterday that were up as much as 137% and 298%!

But when the market opened they both tanked and gave back most of their moves — one of them got decimated and gave back the entire move plus almost 30%!

So what can suck the momentum out of stocks and leave them for dead that fast?
Today I'll share the reason these two stocks tanked.
Plus, I'll share another stock that ripped at the open but also eventually got hit by the same phenomenon and dropped 28%.
But probably the most important lesson you'll learn today is why this happens and how you can avoid these stocks — so let's dive in!
How to Spot Stocks Before They Spike
The first big 137% gainer yesterday morning was Actelis Networks, Inc. (NASDAQ: ASNS).
It spiked on news that it received "orders to deploy its hybrid fiber-copper networking solution to support IoT connectivity for major highway and rail systems in Japan."
The Breaking News Chat team alerted it right at 8:30 a.m. Eastern.
It wasn't a super exciting headline but it was enough to spike the stock from $2.20 to $5.22 in a few minutes.
But before I could even make a plan for it, disaster struck…
The Breaking News Chat team alerted it as a chat pump just nine minutes later.
So I didn't want anything to do with it. The chat guy has been ice-cold and hasn't been able to spike any stocks.
Sure enough, the stock died after he got involved in it…
Again the Breaking News Chat team alerted the news and the chat pump. It only took the chat guy two minutes to jump all over this one and destroy it…
By the time the market opened, I wanted to tell the chat guy to go back on vacation and just go away.
But he wasn't done ruining all the stocks with potential yet…
The Breaking News Chat team alerted Tango Therapeutics, Inc. (NASDAQ: TNGX) as an earnings winner in early premarket.
And when the market opened, it was the first stock to hit Oracle's signal…
Oracle's signal was $5.70 and the Oracle support and resistance lines showed resistance at $6.05 and $7.46.
TNGX blasted through those resistance levels and hit a high of $9.39 for a 64% move from the signal.
But it was also halted multiple times which can be frustrating.
So you might be wondering how the chat guy killed this stock…
Well, he was a little late to alert his sheep to this one.
The Breaking News Chat team alerted that the chat guy was in TNGX the minute it unhalted. The stock hit its high of the day, and then quickly tanked $1 per share.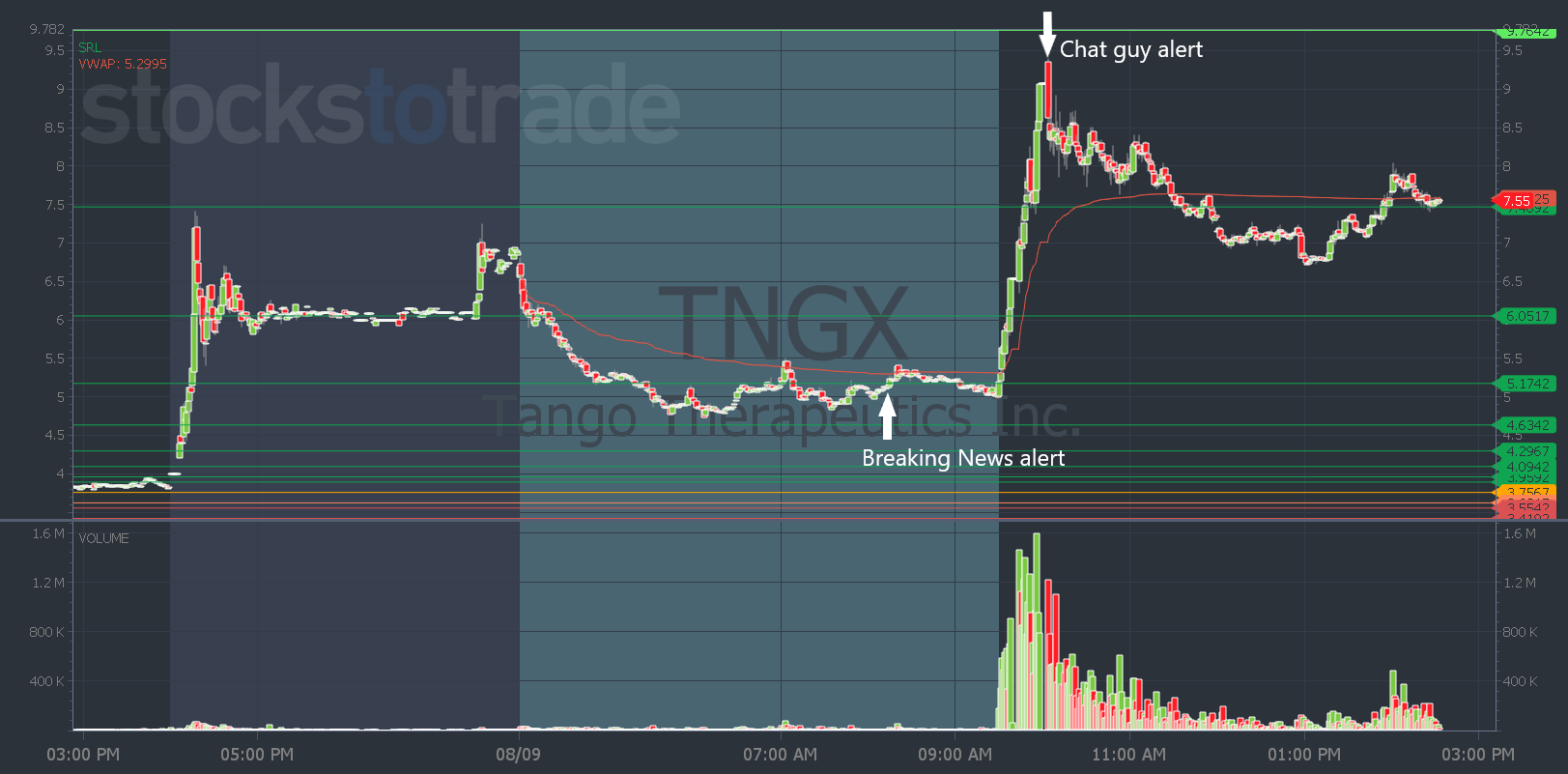 Too bad the chat guy's sheep don't have the Breaking News Chat or Oracle so they could've caught the move on the way up instead of buying the top…
I feel bad for them but the tools are available if you want them.
Anyways, you might be wondering how the chat guy mentioning a stock can tank it so fast.
Why Chat Pumps Fail
Here's how chat pumps work…
The pumper typically buys up shares of a stock before they alert their followers. So they already have a position when the alert goes out.
Then when the sheep enter the stock on the alert, it brings in volume and pushes the stock price higher. The pumper sells into that volume and price push…
And once all the sheep are in it, there's nobody left to buy.
So the stock reverses. And as it goes down the sheep get scared and sell. That adds to the selling pressure and it's why nine out of 10 chat pumps fail.
If you want the tools that can help you avoid getting caught in chat pumps — try our Breaking News Chat.
If you want our Oracle algorithm to show you stocks with the potential to explode each morning — attend a webinar here to learn how it works and how to get it.
Have a great day everyone. See you back here tomorrow.
Tim Bohen
Lead Trainer, StocksToTrade
Want Daily Trade Ideas From Millionaire Traders?
Whether you're a rookie in the markets or a seasoned trader – these strategy sessions are perfect for ANY trader who wants to gain a MASSIVE edge in today's uncertain market…
And take advantage of the obscure "profit windows" Tim Sykes has been targeting!
Don't miss out on the next session!
Overworked Clerk Makes Millions With This Trading Secret
If you don't know, clerks are like the "stepping stone" job every aspiring lawyer has to be before they can make the big bucks.
That's what Roland was before he started trading.
He was overworked, always tired, and realized the "lawyer" lifestyle wasn't what he was put on this Earth to do.
So, he opened a trading account with just $4,000. (At the time he was only making $20 bucks an hour)
And in the span of a few years, he made over $1.8 Million dollars…
If you want to discover the unique trading system he used that enabled him to quit his desk job for good…
Recommended Membership Gifts
Click to activate these complimentary membership gifts and receive daily market intel.


(As an Amazon Associate, we earn from qualifying purchases.)
13809 Research Boulevard, Suite 500, Austin, TX 78750
**Tim Bohen teaches skills others have used to make money. Any results displayed are extraordinary and are not typical and will vary from person to person. For more info read our Earning Claims Disclosure
About: Making money trading stocks takes time, dedication, and hard work. My goal is to teach you how I have succeeded in the market, but you may not achieve my results. Remember, there are risks involved with investing, including the potential loss of money.
We are strongly committed to protecting your privacy and providing a safe & high-quality online experience for all of our visitors. We understand that you care about how the information you provide to us is used and shared. We have developed a Privacy Policy to inform you of our policies regarding the collection, use, and disclosure of information we receive from users of our website.
Our Privacy Policy, along with our Term & Conditions, governs your use of this site. By using our site, or by accepting the Terms of Use (via opt-in, checkbox, pop-up, or clicking an email link confirming the same), you agree to be bound by our Terms & Conditions and our Privacy Policy.
If you have provided personal, billing, or other voluntarily provided information, you may access, review, and make changes to it via instructions found on the Website or by replying to this email. To manage your receipt of marketing and non-transactional communications, you may unsubscribe by clicking the "unsubscribe" link located on the bottom of any marketing email. Emails related to the purchase or delivery of orders are provided automatically – Customers are not able to opt out of transactional emails. We will try to accommodate any requests related to the management of Personal Information in a timely manner. However, it is not always possible to completely remove or modify information in our databases (for example, if we have a legal obligation to keep it for certain timeframes, for example).
If you have any questions, simply reply to this email or visit our website to view our official policies.
Copyright © StocksToTrade.com